You should have seen the look on Parker's face when I told him I had another craft project idea for the house. He was less than amused (
I can't blame him
), but this string/yarn art stuff I have been seeing on Pinterest was too tempting not to try. I am so glad I did! It was cheap, easy, and it looks great in my office over my giant
turquoise desk
. So here is the finished product:
I decided to do three smaller square boards and have a different design on each. The board on the right is the shape of Texas (
I hope everyone already knew that
), and the heart is over College Station. Parker and I have lived in a few different places both together and separately in Texas, but College Station is where we met. It's where our story began. The middle shape is an anchor. This obviously symbolizes the Navy, but it had special meaning for me in college as a Delta Gamma, it symbolizes this blog, etc. The heart on the left was kind of a cop-out. I couldn't think of another out of the box shape to do, and I love love, so a heart it is.
Want to make one? Here's how!
Parker ever so graciously cut the boards to proportion for me, and I tackled the rest of the project.
Step 1: Stain or paint your wood. These will be going in the same room as our
world map
, so I decided to use the same stain we used on that frame to tie it all in. Bonus- we already had some of this stain left over, so that portion of the project was free. The color I used was Cabernet by Rustoleum. Let the stain dry completely- I let it dry overnight.
Step 2: Print out an image of your desired shape and cut it out. I printed out half a heart twice and taped it down for the heart board. The heart and the anchor were easy because those shapes are mirror images of themselves. The state of Texas...not so much. For Texas, I printed out a smaller shape as a guide and just eyeballed it. Tape the paper shape onto your board and nail around it. Remove the paper/tape and you should see your shape outlined by nails.
Step 3: Tie a piece of yarn to your starting point and string away! I didn't follow any specific pattern. I just kept wrapping the yarn until I was pleased with the end result. Tie off the yarn when you're done and that's it! Easy peasy.
This was a fun and easy project for me to take on, and Parker and I really are so pleased with the end result!
This week I was also chosen to co-host the Wednesday Walkabout, so bloggers be sure to link up and meet some new fabulous bloggers! Thanks fellow military spouse Jane at
Poppiness
for letting me co-host!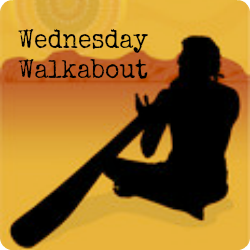 The Rules:
1. Please follow at least ONE hostess, and let us know you're a new follower and how to follow you!
To be entered as next week's Mystery Host, follow all hosts from this week.
Mystery Host Chelsea- Anchors Aweigh
2. Try to visit 3-4 blogs that interest you. Take some time and let them know where you came from.
3. Grab the button and spread the word! (Not required, but just cool if you do). The more, the merrier.
Happy Wednesday!